LevelCheck Set
according to DIN 15905-5 standard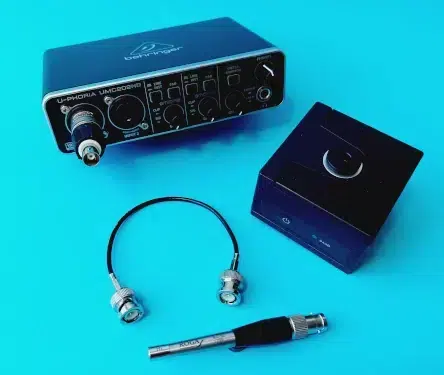 Scope of delivery:
LevelCheck software for Windows® 7, 8, 10, 11 Dolngle license
USB Audio Interface Behringer U-Phoria UMC202HD
RG-50HL high SPL microphone with 10 mV/Pa to 150 dBpeak
WS-RG-40 windscreen
CA114 microphone calibrator class 2 with 1/4″ microphone adapter
MP48 IEPE XLR adapter
RogaBNC5 5 meter RG174A/U coaxial cable with kink protection
AUDIO
Supports Windows® Audio.

Supports Windows® Core Audio.

Supports ASIO®. ASIO is a registered trademark of Steinberg Media Technologies GmbH.

Measurement microphone and reference microphone.

Output for pink noise.

Internal noise generator (pink noise).
RECORDING
Measurement protocol according to DIN15905-5 (11-2007) or own specifications.

Intermediate values ​​as a list and graphic.

Grid of intermediate values ​​1s, 2s, 5s, 10s, 15s, 20s, 30s,  

1min

 , 2min, 5min.

Automatic generation of the file name.

Audio recording of the violations
MEASUREMENT
L 

eq

  grid: 1min, 5min, 10min, 15min,  

30min

 , 60min, 120min.

L 

eq

  Sliding: 1min, 5min, 10min, 15min, 30min, 60min, 120min.

L 

eq120min

 .

Short-term L 

eq

  sliding: 2s, 5s,  

10s

 , 20s, 30s, 1min, 2min, 5min.

L 

eq

  related to the current duration measurement.

L Peak

  L 

Impulse

  L 

Fast

  L 

Slow

 .

Measurement with A or C rating or without rating.
DISPLAY
Current peak.
Highest peak of the measurement.
Highest peak in the current interval (raster only).
Configurable display of the Leq.

Current L eq .
Preview values (rasters only).
short-term L eq .
Distance to the L eq  limit.
Maximum L eq  of the measurement.
Leq as percent of limit.
L eq120 .
L eq  related to the current measurement duration.

L eq  display via network in the browser, also as a traffic light display.
MONITORING
Color marking of the states:

Normal: green.

Warning: Yellow.

Overrun: Red.

Flashing and maximizing the display with selectable limits.

Audio recording of the input signal when exceeded.

A DMX scene can be assigned to each status.

Output of the DMX values ​​depending on the status via ARTNet™ 

1

 .

When using Windows® Core Audio, the volume setting of the computer is monitored.

Logging of special events such as exceeding the limit value.

Measurement protocol according to DIN15905-5 (11-2007).
MISCELLANEOUS
Calibration wizard showing maximum input level and crest factor.

Assistant to determine the loudest point in the audience area.

Assistant for determining the correction factors.

Determination with one or two microphones.

Measurement duration 15s, 30s, 45s, 1min, 2min.

Measurement at the alternative immission location can be repeated without a new measurement at the immission location.

Continuous display of correction values.

Two switchable color profiles.

English and German labeling of the display and the printouts.
WEB INTERFACE
Visualization of the Leq values ​​via network.

Switchable display (traffic light display, single value, overview).

Through the display in the browser, it is independent of the operating system used on the display device.

Up to three network devices possible at the same time.

Calibration can be controlled via the web interface.
HINTS
Not all features are available in the demo version.

Please test the compatibility of the software with your system before  

purchasing

  using the  

demo version

 .
1 Art-Net™ is a trade mark of Artistic License Holdings Ltd