Electronic stethoscope to detect the ball bearing, rolling bearing noise or when turning, milling or grinding.
Electronic Stethoscope ES-12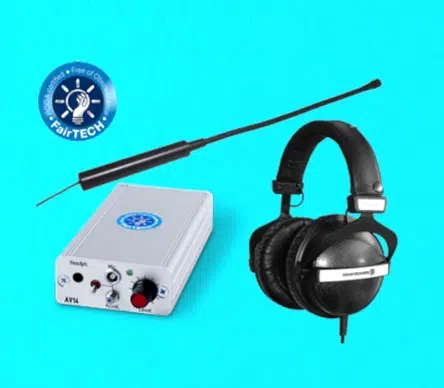 Electronic Stethoscope ES12 for locating sound sources.
The system contains a directional microphone MI10, a monitor amplifier AV14, dynamic headphones, an accelerometer and a carrying case.
Use
Acoustic and Vibration Measurements

Source Location

Machine Diagnosis

Structure-borne sound location
Scope of delivery
1-Channel Monitor Amplifier and Charge Amplifier AV14

AC Adapter, 100-240 VAC / 12 VDC

1/4″ Directional Microphone MI 10

Accelerometer

Headphone KH 10

Carrying Case

Manual
AV14 Charge and IEPE Amplifier
The 1-channel charge amplifier AV 14 has been constructed mainly to monitor acoustic and vibration signals. 
It has a measuring channel for an electret condenser microphone or a piezoelectric accelerometer. 
The switching over from the accelerometer to the microphone comes automatically, when the microphone mini-jack is plugged in at the output socket you get a voltage proportional to the acceleration or sound pressure independent of the amplification of the headphone amplifier. 
So the instrument can be used as a front end for analyzers or similar instruments.
Features
electret condenser microphone Input

Piezoelectric accelerometer input

Adjustable Headphones output

Preamplifier Function (additional output)
Application in the grinding industry:
Contact detection of the grinding wheel with a rough diamond.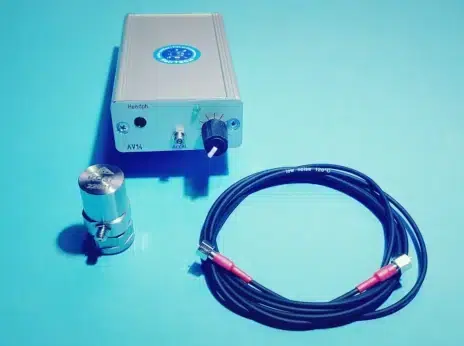 MI10 Directional Microphone - Features
Shapely matt black plastic housing and swan neck

Built-in windscreen

Background noise elimination

Functional small and handy design
KH10 Dynamic Headphone
KH10 is a closed dynamic headphone and it is designed for critical music and sound monitoring in an open environment. The headphone features a frequency response of 5 Hz to 30 kHz and is equalized to the diffuse sound field. The single-sided 3 m connecting cable is equipped with an in-line volume control for optimum set-up. It is fitted with a gold-plated mini stereo plug (3.5 mm) with a 1/4″ (6.35 mm) adapter and is therefore suitable for use with almost all headphone amplifiers.
The rugged headband construction has been strengthened to give the headphone a very secure fit, matched with mechanical reliability. Soft ear pads that are easy to clean and adjustable, sliding earpieces ensure listening comfort during extended periods of use.
Features
Closed diffuse field headphone

Excellent ambient noise attenuation (better 35 dB A)

Superb audio quality with high sound pressure level (105 dB)

Robust spring steel headband

Single sided cable (straight cable, 3 m long) with in-line volume control

Gold plated jack plug (3.5 mm) and adapter (6.35 mm)
Electronic stethoscope price

ROGA Instruments products are free from planned obsolescence, technically accessible, durable and repairable.


1-channel monitor amplifier and charge amplifier AV14
AC adapter, 100-240 VAC / 12 VDC
1/4″ directional microphone MI 10
accelerometer KD37
sensor cable 1.5 meter
headphones KH 10
carrying case




1-channel monitor amplifier and charge amplifier AV14
AC adapter, 100-240 VAC / 12 VDC
accelerometer KD37
sensor cable 1.5 meters