Vibration and Noise Analyzer
NoisePAD
for Ultimate Field Use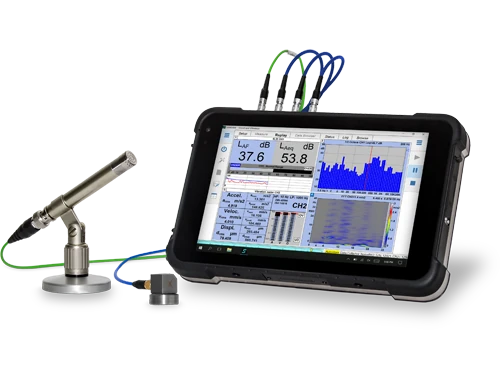 Universal 4-channel Noise and Vibration Analyzer
The NoisePAD™ is our new 4-channel noise and vibration analyzer. Minimal size and weight make the NoisePAD™ a perfect fit for mobile applications thus closing the gap between our hand-held sound level meters and the Soundbook measuring system. Very low power consumption allows tripling of the battery life compared to the Soundbook to a maximum of 12 hours.
This combination of a robust industrial 8-inch tablet and a DSP-based analyzer complies with MIL-STD-810. Rubber seals protect all connectors from water and dust. The NoisePAD™ thus fulfils the requirements of IP54.
To also meet the conditions for metering points according to articles 28 and 29 of the German federal immission control act (Bundes-Immissionsschutzgesetz) the NoisePAD™ is currently being prepared for design approval by the German federal physical-technical institute (Physikalisch-Technische Bundesanstalt, PTB).
The NoisePAD™ has two additional tacho/trigger channels for rotational speed measurements as well as external control of the instrument. It also offers a signal generator output, which allows to generate noise or sweep signals for example. The integrated LEMO CAMA connectors enable secure and reliable interfacing with ICP/IPEE sensors.
The NoisePAD™ features a full version of Windows 10 supporting all common Windows applications. 
Interfaces as USB, Bluetooth, 4G and WiFi, SD cards as well as front and rear cameras extend the application scope of this instrument.
The NoisePAD™ is particularly well suited for:
Sound intensity measurements
ISO 9614 sound power measurements
Rotor balancing
Machinery vibration measurements
Building acoustics
Noise and vibration monitoring
Occupational health/human vibration measurements
Environmental noise & building vibration monitoring
Engineering services
Quality assurance
Frequency analysis
Modal analysis
Order analysis
Structural analysis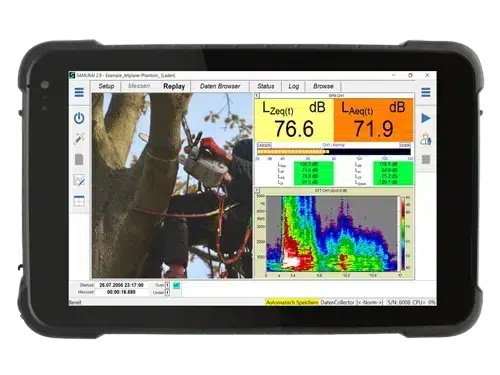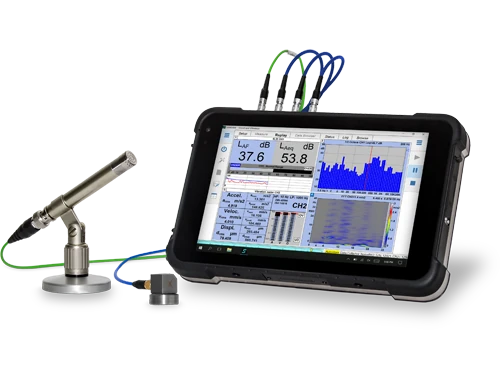 The smallest 4-channel sound level and vibration meter
With a size of just 226mm x 156mm x 28mm and a weight of only 950g the NoisePAD™ is our smallest sound level and vibration meter complete with display and four measuring channels. The sample rate of each channel is freely adjustable between 200Hz and 51.2kHz. The instrument also features a 24-bit signal generator and two trigger and rpm inputs. 
Low-power, energy-efficient analyzer for noise and vibration monitoring
Equipped with an Intel™ ATOM Cherrytrail processor the octave and FET analyzer combines high performance and low power consumption. This makes the NoisePAD™ the ideal instrument for monitoring noise and vibrations. The touch screen gives easy control and allows field configuration of the instrument. The internal 128GB SSD can be used to simultaneously record and store measuring and real-time analysis data at full bandwidth from all channels, even for several days.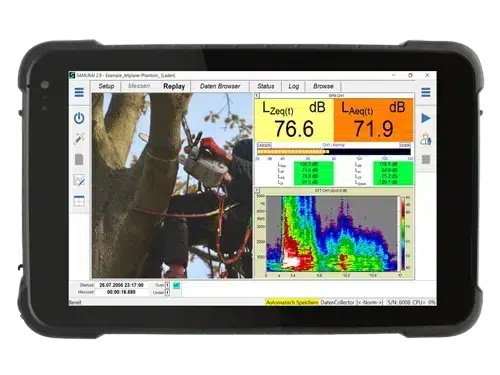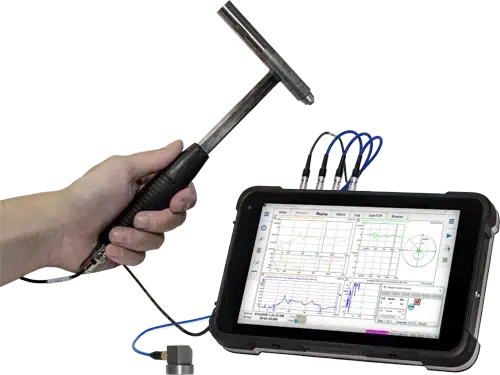 Portable analyzer for structural and modal analysis
The light-weight NoisePAD™ offers the ideal feature for the mobile structural and modal analysis. Our NVH Analyzer FRF option supports excitation with an impulse hammer as well as a shaker. The intuitive software guides the user through several easy measurement steps. Analysis of the measured data can be done on the instrument immediately after the measurement. The integrated signal generator output can be used to drive the shaker.
Sound level meter with bright 8-inch TFT touch screen
The NoisePAD™ has a large 8-inch TFT screen that enables use as a tablet. This allows a much clearer display of the measuring data compared to the usual hand-held sound level meter. Sound level, level curves with marker traces as well as FTT and third-octave spectra can be viewed simultaneously.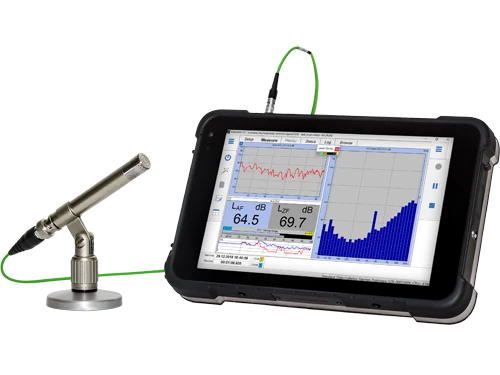 Highest precision provided by a 24-bit ADC in combination with a new powerful Apollo filter processor
Our new powerful Apollo filter processor allows highest-precision real-time analysis with a large number of channels and a low energy consumption. Integrated weighting filters complying with IEC 61672 for sound level meters, Class 0 filters complying with IEC 61260 for the 1/3 or 1/1 octave analyzer, filters for the evaluation of mechanical vibrations complying with DIN ISO -7919, ISO -2954, ISO -10816 and DIN45666 as well as high and low pass filters provide resource-saving calculations directly on the hardware. The 24-bit ADCs safeguard a high signal bandwidth with a linearity range >110 dB (typical) complying with DIN 61672 and a sample rate of up to 51.2 kHz (switchable per channel).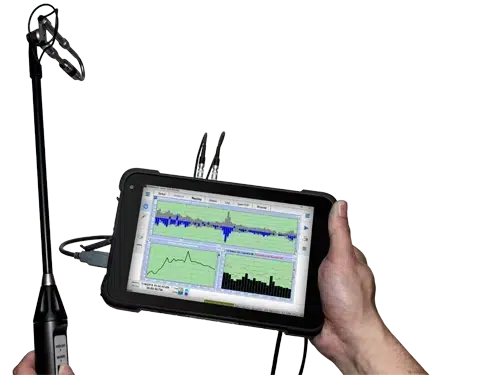 Sound intensity analyzer for up to two sound intensity probes
As a very special feature the NoisePAD™ has also been designed as an IEC 61043 Class 1 sound intensity analyzer. The software supports simultaneous sound intensity measurements with two sound intensity probes. The two integrated cameras can be used to take photos or videos to document the measurement process. The instrument features a highly accurate 24-bit signal generator for phase calibration.
User-friendly, hand-held instrument with video function for occupational health noise and vibrations measurements
The NoisePAD™ supports the simultaneous measurement of noise and vibration in the work environment. The activity of the worker and the position of the sensors can be captured using the integrated cameras. For the measurement of human vibrations the instrument integrates HVMA weighting filters complying with DIN EN ISO 8041, ISO-2631, ISO-5349, ISO-8662, UNI-2614, UNI-11048 and UNI-9916.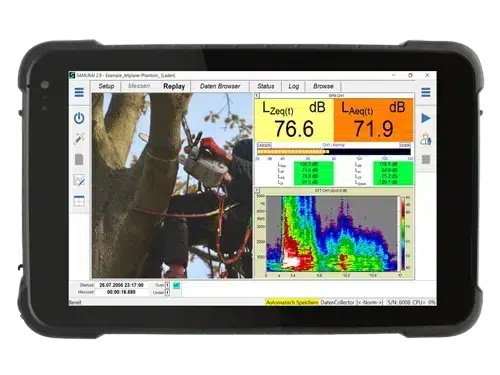 Report function for use in the field, on the move or at the office
The integrated high-end tablet PC offers all functions and interfaces of a regular notebook allowing to post-edit the measured data virtually everywhere. Thus the NoisePAD™ combines the performance of a high-quality measuring instrument with the capabilities of a PC.
| | |
| --- | --- |
| | Lemo NIM-CAMAC (BNC Adapter cable available) |
| | |
| | DC … 51.2kHz @ 4 channels |
| | |
| | < 1μV(A), < 2μV(Z) @ 0.1Hz ... 20 kHz |
| | |
| | up to 200Hz sample rate, selectable per channel |
| | |
| | ±10Vpeak @ head room of 1dB |
| | |
| | |
| | yes, automatically at internal calibration |
| | DC, AC 0.15Hz, HP 1Hz, HP 10Hz, LP 2kHz |
| | |
| | |
| TEDS according to IEEE 1451.4 | |
| | |
| | |
| | |
| | |
| | Lemo NIM-CAMAC (BNC Adapter cable available) |
| | |
| | 2x trigger / tacho, trigger level adjustable 0.1Hz … 6 MHz |
| | Lemo NIM-CAMAC (BNC Adapter cable available) |
| | |
| | |
| | |
| | |
| | Lithium-ion battery, 12 h measurement capacity |
| | 100 … 240VAC or 5 VDC with adapters |
| | |
| | IP54 / IP50 without with Lemo NIM-CAMAC protecting caps |
| | complies with MIL-STD 810F |
| | |
| | |
| | -20°C … +60°C, 95% humidity maximum |
| | |
| | |
| | |
| | |
| | |
| | |
| | |
| | |
| | CAMAC/BNCw Adapter cable 0.25 m |
| | |
| | |
| | |
| | CAMAC/UNF10-32 cable 1.5 m |
| | |
| | SIS190 1/2″ sound intensity probe USB |