Vibration Calibrator 10 Hz to 10 000 Hz and 0 - ±10g RMS
The VC-02 is an advanced tool specifically designed to test and calibrate various types of vibration transducers and measurement systems. Whether it's for industrial or laboratory use, the VC-02 is the perfect solution. 
Its portability makes it convenient for on-site testing without having to send the equipment back to the lab. With continuous adjustments of frequency and vibration amplitude, users can fine-tune their vibration measurement tools with ease. 
With a wide vibration frequency range of 10 Hz to 10 kHz and an adjustable vibration amplitude of 0 to ±10g RMS, the VC-02 is suitable for most vibration measurement applications. 
Additionally, the VC-02 provides direct readings with its LCD display, making it easy to track and monitor measurements. Furthermore, the VC-02 offers multiple input modes including Charge, IEPE, Voltage, 4-20mA, and Eddy, ensuring that it can accommodate different sensor or system types.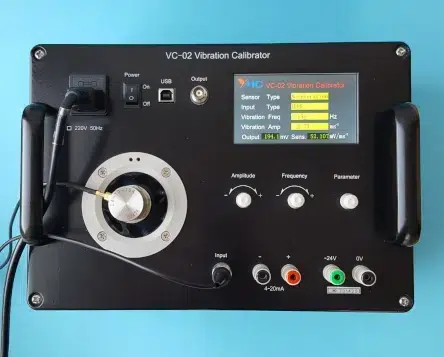 Technical Data:
Vibration frequency range: 10 Hz -10 kHz
Vibration amplitude: 0 -±10g RMS
Input Mode: Charge /IEPE/Voltage /4-20mA /Eddy
Size: 300(L )×140(W)××85 (H)
Dimensions: 300×140×85mm
Weight: 6.5kg
Load range: ≤200 grams (1g)
Supply:220V 50Hz/110V 60Hz
PC interface: USB 
Quick and easy calibration of
vibration measurement systems
The automatic calibration of the vibration sensor can be completed by test and control software. Sensitivity, amplitude/frequency response, non-linearity.