Measuring Microphone for PC Mic Input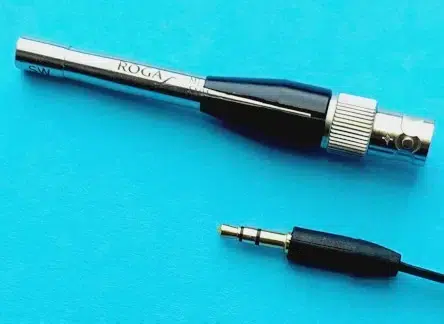 Splashproof IP55
Frequency Response 20Hz – 20kHz – IEC 61094-5
Microphone type free field
characteristic omnidirectional
Sensitivity 22mV/Pa 
Self-noise 28 dBA 
Measuring range (ref. 20μPa) 28 -108 dB 
Supply via 3.5mm jack on PC Mic. Entry 
Connector BNC (female) 
Diameter ¼"/ 6.8mm 
Operating temperature -20 – 80 °C 
Length 85mm
Weight 18g
The 1/4" MI19SW-PC is a microphone that can be connected directly to analog audio inputs of computers or mobile devices.
It is equipped with IP55 splash protection and the WS-RG-40 wind protection as standard, so that it is also suitable for permanent surveillance outdoors in a shelter.
The electret capsule is protected by a water-repellent stainless steel grid and can also be replaced later because the stainless steel microphone housing can be opened non-destructively.
The class 1 frequency response according to IEC 61094-5 and 22 mV/Pa high sensitivity have proven themselves for years.
The electrical connection of the microphone is via a BNC socket and is supplied with an adapter cable BNC to 3.5 mm jack plug.
The microphone can be calibrated via a microphone calibrator using a 1/4″ adapter.