The MP48 adapter is an excellent bridge between professional studio technology and professional measurement technology.
Any IEPE sensors can be conveniently connected to computer audio interfaces (USB interfaces), mixers and recorder systems with 48 volt phantom power.
The 48 Volt phantom power is transformed to the IEPE sensor standard on a small circuit board in the Neutrik XLR connector.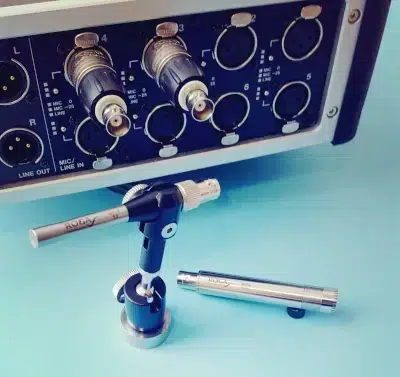 ROGA Instruments products are free from planned obsolescence, technically accessible, durable and repairable.


1/2″ Microphone Holder, 1/4″thread, Alu black anodized
Swivel Head, 1/4″thread, steel black
incl. thread adapter 1/4″ – 3/8″



VC-01
Vibration Calibrator


The vibration calibrator VC01 is a small and lightweight handheld calibrator for quickly checking acceleration and vibration sensors.




VC-02 is a complete, self-contained, portable vibration calibrator. Frequency, vibration amplitude can be adjusted continuously, direct LCD display.




1/2″ Microphone Holder, 1/4″thread, Alu black anodized
Swivel Head, 1/4″thread, Alu black anodized
Conversion Screw, 1/4″to 3/8″thread, Alu black anodized




Microphone holder for measurement microphones
RG-50, MI17, MI19, MI21, MP30, MP40, MM210




BNC-BNC cable with bend protection
RG174A/U coaxial 50Ω, 295 Ω/km, shielded, black
Temperature range: -20 to +70°C, 2.8 Ø mm
Also available with TNC connectors




Acoustic noise source
Active – loudspeaker with noise generator
White and pink noise (100Hz – 20kHz) approx.
100dB sound power, interrupter contact for reverberation time measurements
Mains operation, dimensions: 120x188x118mm³, weight: approx. 3,5 kg




48V phantom / IEPE
power adapter XLR male to BNC female




IEPE Sensor Amplifier
IV11SB is a portable single channel IEPE sensor signal conditioner.
It provides a 24 V / 4 mA power supply for sensors with integrated amplifiers.
Two selectable gains 0dB and + 20dB are available.




Sound calibrators of the CA1xx series are very stable precision class 1 and class 2 calibrators. The devices can be used with 1⁄4" and 1⁄2" microphone's. The internal reference microphone and control loop circut, guarantees a microphone type independent precise calibration.



Laboratory Amplifier PA50


Universal 50-Watt power amplifier for technical acoustics. Drive for impedance tube systems and other sound sources.




The AVC3000 is a three-channel, portable IEPE conditioner for ICP® powered sensors with built-in rechargeable battery. Each channel has independent control of gain level and frequency response. The settings can be made with the buttons on the front. The module has a built-in sensor circuit diagnosis and detects short circuits and interruptions in the measuring chain.