USB IEPE Sensor DAQ for 16 channels
USB DAQ with IEPE sensor interface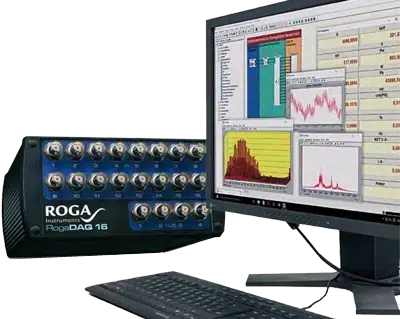 USB 

DAQ 

with IEPE 

sensor

 supply,

 

16 analog inputs

4 analog outputs

16 bit resolution

2 counter inputs

24 bit digital I/O

USB 2.0 interface
With the introduction of the RogaDAQ16 USB 2.0 data acquisition system, a new age of measurement technology begins.
USB 2.0 / 480MBIT (USB1.1/12MBIT COMPATIBLE)

16 analog input channels (16bit/500kHz max.)

ICP ® ( IEPE ) sensor supply (24V/4mA)

0.125V to 10V input range

Individual preamplifiers

4 analog output channels (16bit/100kHz)

Powerful DSP (255MIPS) for filtering, control etc.

24 digital I/Os

Optional 24bit counter, timer, PWM, incremental encoder

Free drivers for major application software

including DASYLab and LabVIEW driver
The RogaDAQ16 is an affordable multichannel IEPE solution. The USB 2.0 interface permits unrivalled portability. Hotplugging the data acquisition unit during operation has now become a reality. The compact and rugged measurement unit with its BNC connectors breakout boxes obsolete. Downward compatibility to USB 1.1 also permits to run this high performance measuring system with older hardware. Simplicity of integration, whether mobile or stationary, has reached a new level.
ANALOG INPUTS
The input signals are digitized using the multiplex method. All 16channels may be used as differential or single-ended inputs. The maximum sampling rate is 500kHz at 16 bit resolution (400KHz for multiple channels). The maximum bandwidth per channel is DC to 22KHz (higher bandwidth on request). In single-ended mode, AC coupling is also available and constant current sensor supply for IEPE-type sensors can be provided.
The input circuitry consists of a software programmable precision amplifier with gain 1/2/4/8/10/20/40/80.
The input voltage ranges are 0.125V to 10V in eight steps, either bipolar or unipolar. The highly flexible signal conditioning and connectivity make the RogaDAQ16 the perfect choice for the majority of measurement applications.
Along with the analog lowpass filters the system can make use of integrated oversampling filters (up to 16x, depending on channel count and sampling rate) in order to improve rejection of noise, distortion and out of band signals
DSP-filters suppress undesired frequencies and distortions. Therefore the user gets clean data.
There is no need for any additional hardware. Signal degradation caused by cabling, contacts and add-on signal conditioners is avoided.
The RogaDAQ16 is a truly affordable and powerful platform for multichannel IEPE-sensor applications.
ANALOG OUTPUTS
RogaDAQ16 offers four analog outputs. The output sampling rate is 100 kHz per channel at 16 bit resolution. The output voltage ranges are 0V-10V und ±10V. They can be used as generator outputs, monitoring outputs or for control loops. It is also possible to download data to RogaDAQ16 and output it to the D/A converters time synchronized by the DSP.
TRIGGERS
There are several trigger options available: Level, edge, limit or window conditions. It is even possible to use mathematically processed data for triggering (e.g. steepness of slope). Trigger conditions can start or stop a measurement, set digital outputs or control analog outputs. Several trigger conditions can activate or deactivate each other. So a network of dynamic triggers is possible, automatically adjusting to the current condition.
DIGITAL IN-OUT
There are 24 digital inputs / outputs available. Any of these ports may be individually controlled by the DSP as input or output.
The digital inputs optionally support counter, pulse width, period length or frequency counter. Incremental encoders can also be supported on request.
The outputs can optionally be used for PWM signals with a resolution of 100ns and output frequencies between 2Hz and 2,500,000Hz with zero pulse discontinuities. Modulation of frequency and pulse width is supported at the same time and independently. It is fully transparent to the user, who only specifies a frequency and pulse width in percent.
SOFTWARE
One of the most important criteria for modern measurement systems is software support. Even the most powerful hardware is useless without respective drivers.
RogaDAQ16 uses an optimized concept which ensures extensive application software support and easy adoption to new software environments.
Besides free of charge drivers for most common measurement applications like EVApro, DIAdem, LabView or DASYLab, further application programs are available.
SOFTWARE AND DRIVER UPGRADES
The most recent versions of drivers, programming interface and software are obtainable through ROGA-Instruments.