Due to its small dimensions, it is also very suitable for mobile use.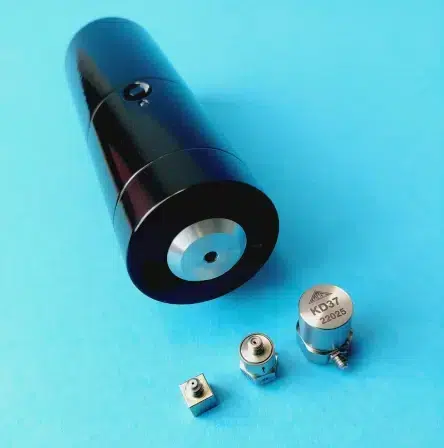 Vibration acceleration 10m / s²

Vibration frequency 159.2 Hz

Waveform sine

Accuracy 5%

Distortion less than 3%

Sensor mass 0..120g

Battery power supply 9V block

Automatic shutdown after 50s
Information
Price: RFQ
The VC-01 vibration calibrator is a small and light hand-held calibrator for quick checking of acceleration and vibration sensors.
With the VC-01 vibration calibrator, sensors up to a total weight of 70g can be checked for function and accuracy very easily.
Regardless of the mass of the test object, the acceleration at the vibrating table of the calibrator is kept constant via an integrated reference sensor.
The signal emitted by the device under test can be measured using an RMS voltmeter, an oscilloscope or an FFT analyzer.
Characteristics:
– Integrated reference sensor with high accuracy
– constant vibration acceleration through
   microprocessor control
– suitable for sensors with 0..120g mass
– Glue sensor attachment or with M5 grub screw
– easy to use
– robust design
– Housing aluminum, black
– Power button with operating and undervoltage display
– Dimensions ø 52 x 148mm
– Weight 525g including battery
– Temperature range 0..40 °C
– LED display for normal operation (green) and under voltage (orange)
Scope of delivery: calibrator, battery, calibration certificate