High SPL Sound Level Meter - Class 1 with recording function
The BSWA 308 Class 1 Sound Level Meter is an instrument for measuring sound pressure levels in decibels. It follows the International Organization for Standardization (ISO) standards for accuracy and precision. Its high accuracy and low uncertainty make it ideal for measuring loud phenomena such as gunshot sounds.
The optional high sound level microphone capsule extends the sound level range of the meter. It can measure loud sounds of up to 184 decibels without saturation or distortion. This capsule is especially useful for measuring sounds in military, engineering, and entertainment applications.
The unit is equipped with a large digital display that shows real-time decibel readings. It also has a data logging function that records sound levels over time. The unit is powered by rechargeable batteries and is lightweight and portable, making it easy to use.
Overall, the BSWA 308-HSPL Class 1 Sound Level Meter provides accurate and reliable sound level measurements, especially in high sound level environments. The optional MK 301 E or MK 342 E high sound level microphone capsule thus extends the range of this already powerful instrument.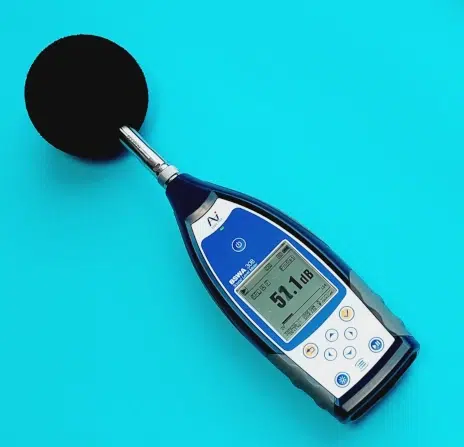 Application
Basic noise measurement
Assessment of ambient noise
Product quality check
Evaluation of noise reduction measures
Features
Class 1 BSWA 308 sound level meter

Conforms to IEC 61672-1:2013, ANS I S1.4 1983 and ANSI S1.43 1997

Realtime 1/1 and 1/3 octave according to IEC 61260 1:2014 and ANSI S1.11 2004

Measuring range : 22dBA~136dBA ( BSWA 308 )

A measurement range to cover the dynamic range 123dB BSWA 308 ) / 122dB BSWA 309

Frequency weighting : A/B/C/Z. Time Weighting Fast/Slow/Pulse

3 profiles and 14 user-defined measurements are calculated in parallel with different




frequency/time weightings

Calculation of SPL, LEQ, Max, Min, Peak, SD, SEL, E

View LN statistics and time history curves

Custom integral period measurement, integral period up to 24h

High-speed ARM core with FPU (Float Point Unit) to achieve wide frequency response, wide




dynamic range and low noise floor

4G MicroSD card (TF card) as mass storage

RS 232 remote control port

Mini thermal printer for printing measurement data

Internal GPS module (option), supports GPS timing