16 Channel Sound and Vibration Analyzer
FFT and octave analyzer with 8 and 16 measuring channels
The cost-effective sound and vibration analyzer Apollo_light offers 2-16 measuring channels as well as additional trigger/tacho and output channels in the dimensions of a USB hard disk.
The measurement electronics are housed in a robust high-quality aluminum case.
A particularly low power consumption allows operation with a tablet PC.
The Apollo_light is our most cost-effective FFT and octave analyzer in our product range.
Several Apollo_light devices can be synchronized sample-synchronously with each other and allow an individually adjustable sample rate per channel.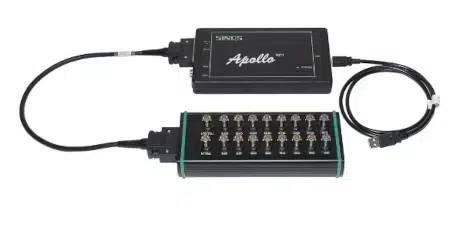 Scope of delivery:
– 16 channel Mini D Ribbon Connector 36
– 115 dB dynamic range
– 2ch trigger
– 2 output channels (3.5mm jack)
– NVH Analyzer Pro + Mini-PC & Driver for Windows
– Splitter box MDR/18x BNC
The Apollo Light is especially intended for:
Occupational safety and environmental protection
Engineering services
Quality assurance
Research and development
Sound level measurement
Sound power measurement
Frequency analysis
Signal recorder
Human vibration measurement
Machine vibration measurement
Modal analysis
Order analysis
Structural analysis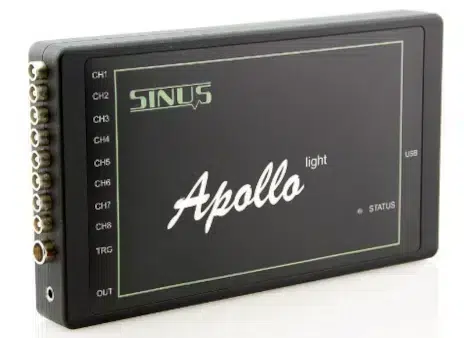 – 8 channel DC…20 kHz (LEMO-CAMAC)
– 115 dB dynamic range
– 2ch trigger
– 2 output channels (3.5mm jack)
– NVH Analyzer & Driver for Windows
In response to the growing market for multi-channel front-end systems as well as the increase in customized solutions, we are expanding our range for our multi-channel measurement systems with the Apollo_Carrier.
The Apollo_Carrier enables the configuration of individual, modular, portable measurement system setups with a high number of measurement channels using Apollo_light analyzers.
FLEXIBLE CHANNEL CONFIGURATION
The Apollo_light is available in several versions with different numbers of channels. Up to ten Apollo_light analyzers can be combined into one measurement system. Since level and octave analyses are already performed in the Apollo hardware, the Apollo_Carrier is particularly suitable for real-time analysis.
APOLLO CARRIER FOR APOLLO LIGHT ANALYZERS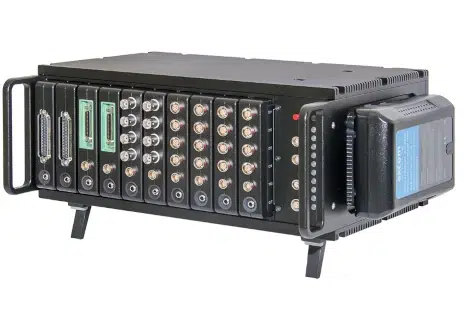 VERSATILITY
With the Apollo_Carrier, individual Apollo_light analyzers from different departments of a company can be combined into one large system. The Apollo_Carrier is operated via an external power supply 10…20 VDC. The optional rechargeable battery supplies the Apollo measurement system for several hours, depending on the configuration. The individual Apollo_light analyzers have their own USB interface and can thus be used as separate measuring devices with a lower number of channels. Passive cooling prevents disturbing noise during operation.
SAMPLE SYNCHRONICITY
Connection to a PC is via a USB port. Synchronization of the internal Apollo meters provides sample synchronicity with less than 0.5° phase difference up to 20 kHz bandwidth. In addition, the Apollo_Carrier has an SCNC_IN/OUT connector.
USER FRIENDLINESS
The Apollo_light analyzers slide into the housing with a few simple steps. The analyzers are automatically recognized by the system via plug and play and can be easily activated in the software. The Apollo_Carrier is recognized via our general SINUS driver. Thus, it is compatible with our SAMURAI software and other alternative software solutions such as MATLAB and PYTHON.  Both the assignment of the measurement channels and the configuration of the analyses can be saved.
up to 200Hz
sample rate selectable
per channel

up to 200Hz
sample rate selectable
per channel

up to 200Hz
sample rate selectable
per channel

up to 200Hz
sample rate selectable
per channel

up to 200Hz
sample rate selectable
per channel

yes, automatically
at auto-calibration

yes, automatically
at auto-calibration

yes, automatically
at auto-calibration

yes, automatically
at auto-calibration

yes, automatically
at auto-calibration

DC, AC 0,15 Hz
HP 10 Hz, LP 2 kHz

DC, AC 0,15 Hz
HP 10 Hz, LP 2 kHz

DC, AC 0,15 Hz
HP 10 Hz, LP 2 kHz

DC, AC 0,15 Hz
HP 10 Hz, LP 2 kHz

DC, AC 0,15 Hz
HP 10 Hz, LP 2 kHz

Microphone voltage supply

± 14 V, + 20 / 63 /
200 V switchable

Output channels 1-2 Resolution
Real-time bandwidth
Max. output voltage
Connector


24 Bit
DC … 20 kHz
± 3,16 Vpeak
3.5 jack



24 Bit
DC … 20 kHz
± 3,16 Vpeak
3.5 jack



24 Bit
DC … 20 kHz
± 3,16 Vpeak
3.5 jack



24 Bit
DC … 20 kHz
± 3,16 Vpeak
3.5 jack



24 Bit
DC … 20 kHz
± 3,16 Vpeak
3.5 jack


2x In:
Trigger / tacho
trigger level adjustable
0.1Hz … 6MHz
2x Out

2x In:
Trigger / tacho
trigger level adjustable
0.1Hz … 6MHz
2x Out

2x In:
Trigger / tacho
trigger level adjustable
0.1Hz … 6MHz
2x Out

2x In:
Trigger / tacho
trigger level adjustable
0.1Hz … 6MHz
2x Out

2x In:
Trigger / tacho
trigger level adjustable
0.1Hz … 6MHz
2x Out