Signal Conditioner 8201 - Description
8201 is a portable single channel ICP® / IEPE Sensor Signal Conditioner.
It provides a 24V / 4mA power supply for sensors with integrated amplifiers.
Two selectable amplifications
0dB and + 20dB are available.
Indicators for signal conditioning minimize the risk of operator error.
The integrated rechargeable 9 volt battery is suitable for a buffer time of 40 minutes.
Charging can take place during operation.
The 8201 is equipped with a high-quality, stable aluminum housing.
ICP® is a registered trademark of PCB Group, inc., Depew, New York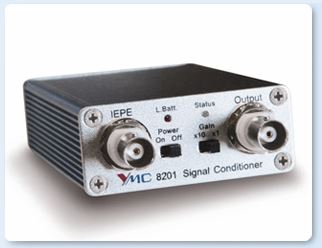 IEPE Sensor Amplifier 8201