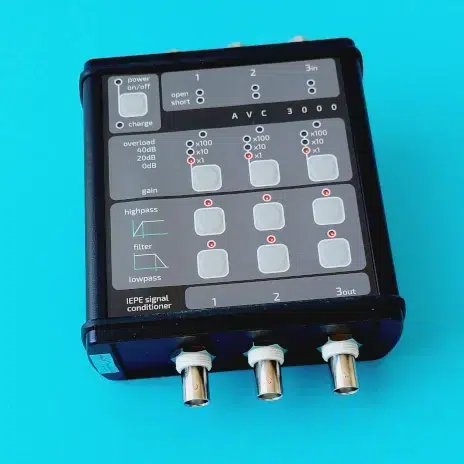 Triaxial IEPE Sensor Amplifier
The AVC3000 is an portable 3 channel IEPE sensor interface. It has 4mA/24V supplies for sensors with integrated amplifiers.
For low level signal amplification it features three selectable gain ranges and individually selectable highpass- and lowpassfilters for all three channels. Indicators for sensor condition and signal overload further minimize the risk of handling errors.
The integrated rechargeable battery ensures a long operating time and the unit may be charged and operated at the same time.
The AVC3000 has a durable aluminum housing and a membrane keypad withstanding dust and moisture.
The low noise, wide dynamic range and excellent accuracy make the AVC3000 an excellent choice for demanding measurement applications.