Sound and Vibration Analyzer
Digital USB Sensor Interface AC,DC, IEPE DAQ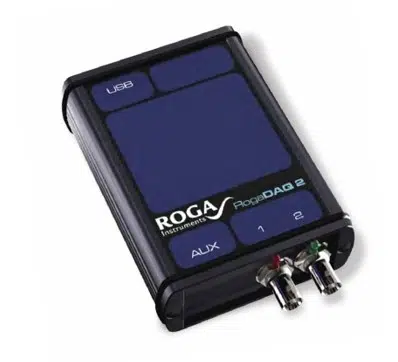 Simple sensor digitization

No driver installation

2 channel AC, DC  IEPE supply independently switchable

Compatible with NVH Analyzer, DASYLab, and most signal analyzer softwares.

Plug.n.Play capable with Windows

DC up to 24 kHz, with IEPE from 0.3 Hz to 24 kHz (-3dB)

Sampling rate 48 KHz
The RogaDAQ2 USB DAQ is designed for sound and vibration measurement applications.
Two analog inputs can be independently controlled to turn the IEPE power supply on or off.
For example, an IEPE vibration sensor can be connected to channel 1 and a DC coupled magnetic field probe can be operated on channel 2.

The main feature of RogaDAQ2 is the concept of driver and free software.
Special drivers are not required it is recognized by the PC as a standard USB audio device.
RogaDAQ2 has been marketed for over 15 years by well-known companies as an OEM product under their own name.
2ch single ended BNC, IEPE, AC, DC

Simultaneously sampling ADCs

Selectable AC- or DC-coupling

Selectable IEPE sensor supply

Self adjusting
Anti-Aliasing filter

85 (w) x 132 (d) x 35 (h) mm