2nd Hand DEVICE

FFT ANALYZER

VIBRATION ANALYZER

VIBRATION METER

SOUND LEVEL METER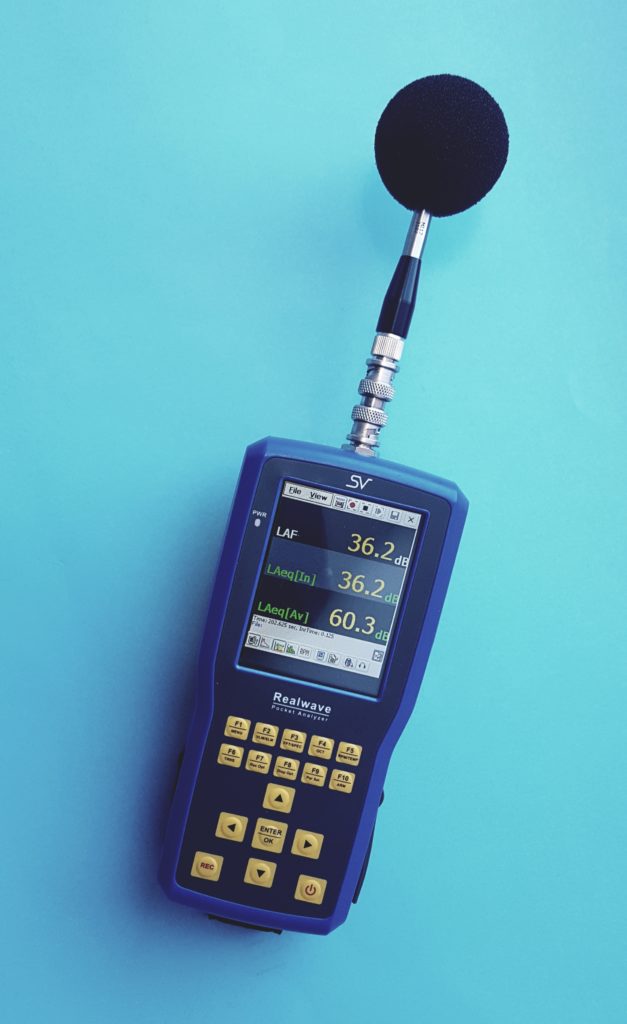 PA201 - 1 channel
Sound level meter and vibration analyzer
The PA201 SMART is versatile and, in its basic configuration, is ideal for:
Sound analysis
Frequency analysis (FFT)
FFT-based octave analysis (OCT)
Digital Filter-based Octave Analysis (DOCT)
Single channel version PA201-1CH allows general sound and vibration analysis, spectrograms, speed measurements (rpm).
Demonstration unit offer : 2680 € + VAT.
Software for vibration measurement (VLM)
Software for vibration measurement (VLM)
IEPE microphone and connection for IEPE accelerometer.
Data is stored and replayed in real time (wave file)
Sensor calibration: software-supported sensitivity calibration
Real-time playback in measurement mode (headphone option)
Gain factors input signal: 2, 4, 8, 16, 32, 64 selectable
Auto scaling (Y-axis) and maximum value detection
Time delayed start of measurement (start trigger)
Configurable recording information (target and axis etc.)
Configurable storage, loading and retrieval of measurement data from files
FFT data recording and comparative analysis (reference file)
Playback of WAV files, selection of interesting partial passages
Data export: text, Excel, Matlab, BMP, JPEG
Overload detection and warning
Filter:
High-pass filter (1 Hz, 5 Hz, 10 Hz, 100 Hz – 15 KHz cutoff frequency)
Band-pass filter (0.5-300 Hz, 2 Hz – 1 kHz, 10-500 Hz, 10 Hz – 1 kHz cut-off frequency – ISO 10816)
Butterworth filter (1.6 kHz, 200 Hz, 100 Hz cut-off frequency)
3 monitoring functions:
Acceleration, velocity, phase shift
Display:
The values of the three monitoring functions are displayed simultaneously as a digital value and as a time history curve
Integration time and adjustable time constant
Values:
RMS value, peak value, peak to peak values, smallest and largest value
Units:
Acceleration m/s², cm/s², mm/s², ?m/s², g, dB
Velocity m/s, cm/s, mm/s, ?m/s, dB
Phase shift m, cm, mm, ?m, dB
Real-time data acquisition as well as real-time recording and playback of WAV files
Time constants: 35 ms, 0.125 ms, 1 s etc.
Standards : IEC61672-1 Class1, IEC60651 Type1
♦ Freq. Range : 0.5 – 16kHz or 0.5 – 20kHz
♦ High-pass Filter : 1Hz, 20Hz
♦ Freq. Weighting : A, B, C, Z
♦ Time Weighting : Fast, Slow, Impulse
♦ Integration Time : 0.125, 0.25, 0.5, 1, 2, 5, 10s
♦ Dynamic Range, Linearity : 120dB more
♦ Display Mode : Digital Value, Compare, Graph
♦ Detector : Selectable Synchronous 2 Detectors
♦ Measurement Value :
-Sound Pressure Level(Lp) : LASp, LAFp, LAIp, LBSp, LBFp,
LBIp, LCSp, LCFp, LCIp, LZSp, LZFp, LZIp
-Equivalent Noise Level(Leq) : LAeq, LAeq(avg), LBeq,
LBeq(avg), LCeq, LCeq(avg), LZeq, LZeq(avg)
-Noise Exposure Level(Le) : LAe, LBe, LCe, LZe
-Max, Min SPL : LASmax, LASmin, LAFmax, LAFmin,
LAImax, LAImin, LBSmax, LBSmin, LBFmax, LBFmin,
LBImax, LBImin, LCSmax, LCSmin, LCFmax, LCFmin,
LCImax, LCImin, LZSmax, LZSmin, LZFmax, LZFmin,
LZImax, LZImin, LAeqmax, LAeqmin, LBeqmax, LBeqmin,
LCeqmax, LCeqmin, LZeqmax, LZeqmin
-Statistical Noise Level(Ln : L1, L5, L10, L50, L90, L95, L99,
User Define) : LASn, LAFn, LAIn, LBSn, LBFn, LBIn,
LCSn, LCFn, LCIn, LZSn, LZFn, LZIn, LAeqn, LBeqn,
Lceqn, LZeqn
-Peak Noise Level(Lpeak) : LApeak, LBpeak, LCpeak, LZpeak