4 Channel IEPE USB - 24 Bit ADC- DC - 80 kHz
The NVH Analyzer and RogaDAQ4 are powerful tools for measuring and analyzing noise, vibration, and harshness in various applications. Rogá, the developer of these tools, provides a getting started presentation to help users better understand their capabilities and functions. The presentation covers the basic features, setup requirements, and usage of the NVH Analyzer and RogaDAQ4. Additionally, the video demonstrates the steps involved in configuring and using these tools for successful data acquisition and analysis. Whether it is for automotive, aerospace, or any other application that requires the measurement and analysis of noise, vibration, and harshness, the NVH Analyzer and RogaDAQ4 can provide users with accurate and detailed data to optimize their products and processes.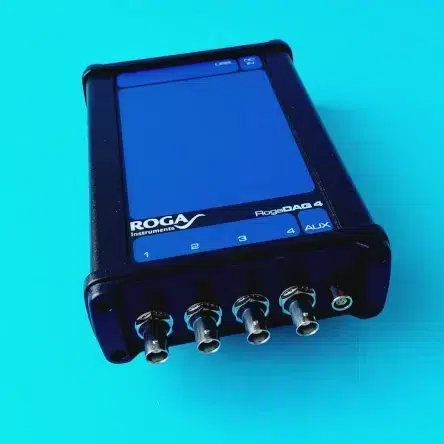 Applications
PC based portable data acquisition
Simultaneous measurement data acquisition via USB
Frequency analysis in the range 0Hz – 80kHz
Structural analysis
Modal analysis
Tumbling motion
Shock measurement
Building vibration
Bridge vibrations
Machine maintenance
Building acoustics and building vibration analysis
Process monitoring
End of line test
Technical Details
RogaDAQ4 high precision inputs are designed for measuring dynamic signals. They are sampled simultaneously. Signals are digitized at a maximum of 192kS/s with 24bits resolution.
Preamplification is realized with noise reduced instrument amplifiers with extremely low distortion. For IEPE compatible sensors a constant current source can be activated by software.
Compatible with DASYLab, LabVIEWTM
Four high precision inputs with 24 bit ADC
8 .. 192kS/s selectable sample rate
Integrated anti alias filter ensures perfect signal integrity
AC, DC coupling or IEPE for direct power supply
Tachometer input
5 Volt power supply
Rugged aluminum case
User Software
The RogaDAQ4 front end can be operated directly out of DASYLab . This allows to perform complex monitoring tasks like final checks in production lines or monitoring of a frequency range with signaling if predefined intervals are left.
And all of this without writing a single line of code. 
Beside this drivers are available for customer specific programming for .NET, ANSI C, Visual C++ 6.0, Delphi, DasyLab, LabView, and MatLab.
NVH Analyzer RogaDAQ4 Getting Started
FFT analyzer with 4-channel RogaDAQ4 USB measurement data acquisition.
Shown here is the setup and a simple measurement after calibration of three IEPE accelerometers. 
With this solution you can handle most vibration problems in mechanical engineering, NVH, "Noise, Vibration, Harshness", research and development at a fair price.
RogaDAQ4 Setup First steps with DASYLab