LX-1000 comes with fulfilling functions and has field use specifications.
Available in 5 selectable amplifier modules. Amplifier modules can be replaced or expanded freely; therefore, you can choose the configuration that suits your needs. You can narrow down the configuration to the minimum necessary, share with other departments, and expand the range of utilization.
Fanless
Less limited equipment arrangement. Realization of clear sound and vibration measurement without worrying about the effects of fans.
Description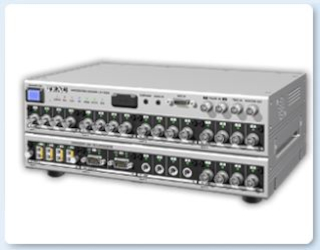 Simultaneous measurement data acquisition as PC frontend system and measurement data recorder simultaneously with up to 256 analog sensor signal amplifiers. Ideal for mobile use
Dynamic range improvement
The realization of 120 dB (FFT based) wide dynamic range enables more accurate recording and reproduction even with dynamic signals with large fluctuations.
General-purpose media adoption realizes
improved media availability and increased capacity
Highly versatile SD memory card adopted for recording media (SDXC: up to 128GB) Easy to use due to significant capacity increase compared with conventional models.
Diversification of amplifier modules
Lineup of various amplifier modules, such as analog input amplifier for TEDS compatible voltage output sensors, analog output amplifier for input signal voltage conversion, CAN data acquisition module, amplifier for strain gauge converter, thermocouple amplifier.
Flexibility and simplification
of the channel increases and decreases
 Channel configuration of 1 amplifier : 4ch (2 ports for CAN) Easy-to-understand structure assuming replacement. Necessary amplifier can be set instantly according to the measurement object.
Synchronization with video
Supporting synchronization with the TEAC Video NV Recorder VR-24, which makes it easy to completely synchronize video and data. Scheduled to support video synchronization using a PC.