Microphone MMS 214 with high sensitivity 320 mV/Pa
and low self-noise level below 6.5 dBA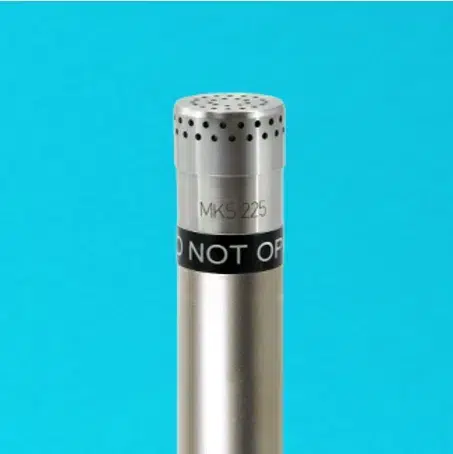 The MMS 214 has a particularly low inherent noise level and is designed for acoustic measurements of low sound pressure levels close to the threshold of human hearing. The electrical connection is via a BNC cable to devices with IEPE supply. The microphone preamplifier internally generates the polarization voltage for the externally polarized microphone capsule. The measurement microphone is equipped with a build-in memory for microphone identification (TEDS acc. IEEE 1451).
Sensitivity: 320 mV/Pa

free-field

2 Hz to 20 kHz

6.5 dBA to 104 dB

IEPE (BNC)

Microphone power supply: IEPE

TEDS acc IEEE 1451
Capacitive pressure transducer

Frequency range
of the free field response

±2 dB 2.5 Hz to 16 kHz
±3 dB 2.0 Hz to 20 kHz


Max. SPL for 3% THD at 1 kHz

Peak, 20 Hz to 5 kHz 116 dB
Peak, 20 Hz to 20 kHz 104 dB
RMS, 20 Hz to 5 kHz 113 dB
RMS, 20 Hz to 20 kHz 101 dB


Temperature range, operation

Temperature range, storage

Temperature coefficient at 250 Hz

Static pressure coefficient at 250 Hz

r.H. <100%, absence of condensation

without protection grid 12.7 mm ± 0.05 mm
with protection grid 13.2 mm ± 0.05 mm

Microphone identification memory

256-Bit 1-WireTM EEPROM (DS 2430 AP)
Recommended 24 bit measurement data acquisition
RogaDAQ4 IEPE ADC self-noise related to 320 mV/Pa microphone sensitivity is at 3.5 dBA.
Noise floor 3.5 dBA @ 320 mV/Pa
Four high precision inputs with 24 bit ADC
8 .. 192kS/s selectable sample rate
Integrated anti alias filter ensures perfect signal integrity
AC, DC coupling or IEPE for direct power supply
5 Volt power supply
Rugged aluminum case
Drivers: DASYLab, LabView, DiaDem