Multi Sensor Input High Speed Data Acquisition
Rotordynamics measurement data acquisition and analysis of torsional, rotational and torsional vibration.
Welcome to the Rotordynamics page, your go-to resource for the measurement, data acquisition, and analysis of torsional, rotational, and torsional vibration. 
This field is a critical aspect of machinery and rotating equipment engineering, as it involves studying the behavior of rotating machinery under different conditions.
Here, you will find everything you need to know about rotordynamics, including the best measurement techniques, equipment, and software for data acquisition and analysis. We cover a range of topics, from vibration analysis and signal processing to modal analysis and finite element modeling.
Our expert team is passionate about providing valuable insights and practical information to help you improve the performance, efficiency, and safety of your rotating machinery. Whether you are a researcher, an engineer, or simply interested in the field, our website is the perfect destination for all your rotordynamics needs. Browse our resources and discover how rotordynamics can help you enhance your operations.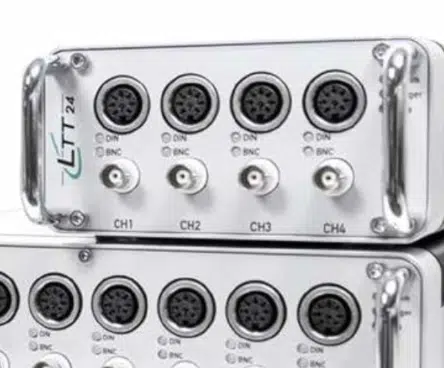 The multifunctional, patented real-time data acquisition
device LTT24 with 24 Bit ADC and 4 MSample/s per
channel, including the functionality of a measuring
amplifier for volts, current, ICP®, strain gage, charge, resistance, pulse, temperature etc.
LTT24 Series up to 4 MHz at 24 Bit
AT FULL SPEED WITH HIGHEST PRECISION
24 Bit AD-conversion at up to 4 MHz sampling rate
Digital measurements accurate to nanoseconds
Pulse/counter inputs: 832 MHz ⩠ 1.20 ns resolution
20 Bit analog outputs up to 2 MHz
INCREDIBLY FLEXIBLE
Recording with a PC or an internal SSD (500 GB)
Modular housing concept 4, 8, 12, 16 channel inserts
USB 3.0 | USB 2.0 and Gigabit Ethernet interface to PC
Synchronization interface for device cascading of multiple LTT24 devices
Digital I/O and synchronization interface
Extendable at any time
HIGH PRECISION INPUTS AND OUTPUTS
For volts, current, charge, ICP®, strain gage, LVDT, resistance, also All-in-one
Sensor supply output: constant voltage, constant current,carrier frequency
Single-ended and differential-ended: AC or DC
Status LEDs for all channels 
INCREDIBLY PRECISE
Best signal quality (16 ENOB – Effective Number of Bits)
Best CMRR – Common Mode Rejection Ratio
Best galvanic isolation
Flat bandwidth: DC – 1 MHz or 1.7 MHz
SOFTWARE
Rotordynamics with NVH Analyzer Pro analysis software
LTTpro: Control and visualization software
LTT2API: Library for integration into customer applications
Compatible with NVH Analyzer, DASYLab, LabVIEW, Matlab, FlexPro, Famos etc.
LTT24 – FIELDS OF APPLICATION – HIGH SPEED MEASUREMENT TECHNOLOGY IN USE
The LTT24 is used for a wide variety of applications in almost all industries. We will give you concrete examples of how you can benefit from our fast, flexible and precise measurement technology.